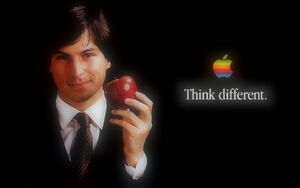 News broke on October 6, 2011 that Steve Jobs, creator of Apple, inc had passed away from his battle with cancer. He was a very smart man and he and his company created many popular inventions, such as The Apple Computer, the ipod, ipad, and iphone.
Trivia I know about Steve Jobs:
He created the first Apple Computer in his garage.
The bite in the Apple logo represents a byte of information on the computer.
I Am A Superstar!! : ) 23:57, July 11, 2012 (UTC)
Ad blocker interference detected!
Wikia is a free-to-use site that makes money from advertising. We have a modified experience for viewers using ad blockers

Wikia is not accessible if you've made further modifications. Remove the custom ad blocker rule(s) and the page will load as expected.